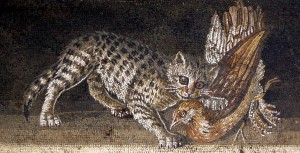 A large part of writing a historical novel is the research into the politics, customs and common habits of the time period in which the story is set. One day while watching my twin cats, Romulus and Remus, basking in the sun, I questioned whether the ancient Romans kept cats as pets and how they were viewed.   If the Romans owned cats, did they hold these animals in the same affectionate regard as many people do today?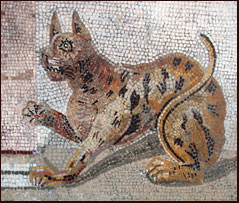 Here are some facts I discovered:
Some experts believe that cats were domesticated from wildcats in Mesopotamia. More evidence points to stronger origins in Egypt.
Domestic cats may have reached Rome via trade as far back as the 5th century BC but were difficult to get.
Egyptians revered the cat and often made attempts to reclaim cats smuggled out of the country. As Christianity grew, Egyptians began to release their hold on the cat.
Early evidence exists for cats as simple house animals in Italy: A 1st century AD grave marker shows a cat referred to as Calpurnia Felicla, thought to translate as 'pussy'; also in this time period, a relief in the Capitoline Museum in Rome, depicts a woman training a cat to dance to music from a lyre; Plutarch writes about the cat and the weasel as house animals; Pliny advises using a cat to drive away mice, and the agricultural writer, Palladius, recommends the cat for catching moles.
Additional evidence in later periods is found in the records of the physician, Evagrius (593AD) about St. Simeon who led a tame panther 'around on a rope like a tame housecat,' and in the 6th century epigrams of the poet, Agathias (527 565AD).
The overall view of the house cat in ancient Rome leans toward a 'beast of prey' more than a cuddly friend.
I've owned a variety of pets over the years, which include: dogs, birds, aquarium fish, hamsters, guinea pigs, turtles, and cats. Through these amazing creatures, my family has experienced joy, laughter, wonder, and learning. When I think about which of these lovable pets ranks high with me, I must choose the cat.  Do you have a favorite pet? Share.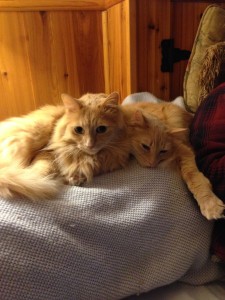 Wikipedia
http://penelope.uchicago.edu
www.playfulkitty.net
#Cats, #pets, #history