The Long-Hair Saga: Book One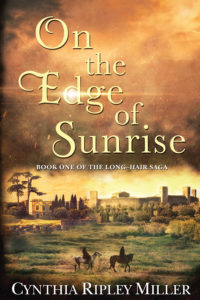 When love commands, destiny must obey. Against an epic background and torn between duty and passion, Arria Felix, a Roman senator's daughter, must choose between Rome's decadent world and her forbidden love—Garic, a Frank barbarian noble.
The year is AD 450. The Roman Empire wanes as the Medieval Age awakens. Attila the Hun and his horde conquer their way across Europe into Gaul. Caught between Rome's tottering empire and Attila's threat are the Frankish tribes and their 'Long-Hair' chiefs, northern pagans in a Roman Christian world, and a people history will call the Merovingians.
A young widow, Arria longs for a purpose and a challenge. She is as well versed in politics and diplomacy as any man … but with special skills of her own.
The Emperor Valentinian, determined to gain allies to help stop the Huns, sends a remarkable envoy, a woman, to the Assembly of Warriors in Gaul. Arria will persuade the Franks to stand with Rome against Attila.
When barbarian raiders abduct Arria, the Frank blue-eyed warrior, Garic, rescues her. Alarmed by the instant and passionate attraction she feels, Arria is torn between duty and desire. Her arranged betrothal to the ambitious tribune, Drusus, her secret enlistment by Valentinian as a courier to Attila the Hun, and a mysterious riddle—threaten their love and propel them into adventure, intrigue, and Attila's camp. Rebels in a falling empire, Arria and Garic must find the strength to defy tradition and possess the love prophesied as their destiny.
Watch the trailer:
On the Edge of Sunrise is a compelling epic, sure to appeal to fans of historical fiction. Forbidden love, a turbulent time period, and world-changing events combine to produce a real page-turner."

∼ India Edghill, author of Queenmaker, Wisdom's Daughter, and Delilah.
On the Edge of Sunrise is a passionate and intriguing take on the often overlooked clash of three brutal and powerful empires: the Romans, Franks, and Huns. A Compelling read!"

∼Stephanie Thornton, author of The Secret History and The Tiger Queens
AD 450. The Roman Empire is breaking apart, and Attila the Hun has his sights set on conquering Gaul. An Assembly of Warriors is held in Gaul to try and unite Rome and the various erstwhile tribal factions into an army capable of defeating Attila. Arria, daughter of a Roman Senator and well-versed in the politics and diplomacy of the day, is sent to this assembly. Arria is abducted from the Assembly by a Chamavi warrior, a barbarian from another tribe, but then rescued by Garic, a Frank, who is aided by his cousin, Vodamir. Arria and Garic fall in love at first sight.

The love story between Garic and Arria is set against a background of fierce battles, intrigue, jealousy and betrayal. Arria is unwillingly betrothed to Drusus, a Roman tribune who sees this marriage as a means to fulfilling his personal ambitions, whilst Garic is a long-haired Frank well beneath her in rank. The story weaves, twists and turns at a tremendous pace, and the characters leap off the pages, which simply keep on turning. This is the author's debut novel, the first in her 'Long Hair' series. I look forward to reading more in due course. Recommended.

~Marilyn Sherlock, Historical Novel Society,
HNR Issue 74 (November 2015)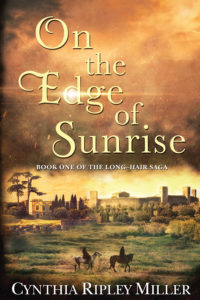 Order at Amazon
Order at Barnes & Noble