The Long-Hair Saga: Book Two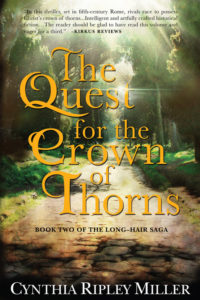 AD 454. Three years after the Roman victory over Attila the Hun at Catalaunum, Arria Felix and Garic the Frank are married and enjoying life on Garic's farm in northern Gaul (France). Their happy life is interrupted, when a cryptic message arrives from Rome, calling Arria home to her father, the esteemed Senator Felix. At Arria's insistence, but against Garic's better judgment, they leave at once.
Upon their arrival at Villa Solis, they are confronted with a brutal murder and the dangerous mission that awaits them. The fate of a profound and sacred object—Christ's Crown of Thorns—rests in their hands. They must carry the holy relic to the safety of Constantinople, away from a corrupt emperor and old enemies determined to steal it for their own gain.
But an even greater force arises to derail their quest—a secret cult willing to commit any atrocity to capture the Crown of Thorns. And all the while, the gruesome murder and the conspiracy behind it haunt Arria's thoughts.
Arria and Garic's marital bonds are tested but forged as they partner together to fulfill one of history's most challenging missions, The Quest for the Crown of Thorns.
"In this thriller, set in fifth-century Rome, rivals race to possess Christ's crown of thorns. Ripley Miller (On the Edge of Sunrise) astutely brings to life a Rome teetering precariously on the brink of collapse … The plot advances energetically, and the combination of political and romantic drama—spiritual as well—is rousing. The reader should be glad to have read this volume and eager for a third. Intelligent and artfully crafted historical fiction … Recommended."
– Kirkus Reviews ~ The Quest for the Crown of
Thorns: Book Two of the Long-Hair Saga