A Roman heroine's love is the barbarian hero's driving passion.
Welcome to my world of the historical romance novel: a crumbling Roman Empire, invading barbarian tribes, deception, intrigue, and a sweet sip of love and desire.
My connection to the past began with childhood visits to the rolling hills and winding roads of my ancestral Tuscany, but I never imagined that the roads I traveled as a girl … would one day lead me back in time to fifth-century Rome and Frank barbarian France.
The Historical Romance Novel: Romance Meets History
Attila the Hun invades Gaul (France) – and Rome is his next target for conquest.  In this era of violent change, a new power emerges, the Frankish tribes known to history as the Merovingians. They are barbarian nobles and warriors trained to fight for gain. They will unite with Rome against the Huns. From these ruthless warriors, the nation of France will spring—and from the pages of my novel a story arises that crosses cultures and ancient hatreds.
In the midst of this historical drama, a romance unfolds.  A Frank warrior and a Roman senator's daughter experience an undeniable attraction during a dangerous encounter.  Torn by duty to their countries and families, their forbidden love threatens—against extreme odds—to cross boundaries and uncover the secret hidden in each of them.
Will their love survive—even in the darkest hour?
Read more Cynthia's Historical Romance Novel, On the Edge of Sunrise »
On the Edge of Sunrise "weaves, twists and turns at a tremendous pace, and the characters leap off the pages, which simply keep on turning." Marilyn Sherlock, Historical Novel Society—(Book 1) The Long-Hair Saga Series.
The Quest for the Crown of Thorns (Book2) "In this thriller, rivals race to possess Christ's crown of thorns. Ripley Miller astutely brings to life a Rome teetering precariously on the brink of collapse … The reader should be glad to have read this volume and eager for a third." – Kirkus Review
"A Sword Among Ravens (Book3) is tense, it is powerful, and I could not put it down. A gripping read from start to finish—I Highly Recommend." The Coffee Pot Book Club Reviews
From cover to cover a gripping read – in all senses of the word! Grips your interest and imagination, your held breath and your pounding heart! A thumping good novel!"
~ Helen Hollick, USA Today bestselling author & Managing Editor Historical Novel Society Indie Reviews
AD 450. The Roman Empire is breaking apart, and Attila the Hun has his sights set on conquering Gaul. … The love story between Garic and Arria is set against a background of fierce battles, intrigue, jealousy and betrayal. … The story weaves, twists and turns at a tremendous pace, and the characters leap off the pages, which simply keep on turning. This is the author's debut novel, the first in her 'Long Hair' series. I look forward to reading more in due course. Recommended.
~Marilyn Sherlock,
Historical Novel Society, HNR Issue 74 (November 2015)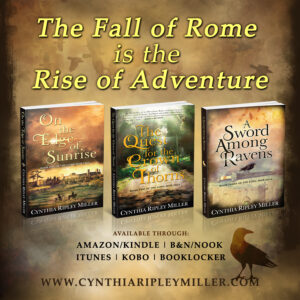 Author Cynthia Ripley Miller
Learn more about the author, Cynthia Ripley Miller »
Fifth Century European History
Keep up with the latest news and articles about late ancient Rome or late antiquity »
Save