With the August heat upon us, this month's guest on Historical Authors Across Time is Emma Rose Millar, writing about mental health in the 19th century and the famous Nellie Bly.
The Victorian Asylum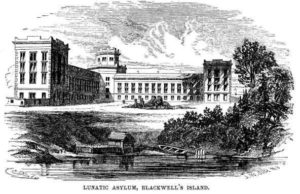 Novel reading, nymphomania, bad habits: just some of the numerous reasons a nineteenth-century woman could find herself locked up in a lunatic asylum. Hailed by some as safe-havens for society's supposedly most vulnerable men and women, asylums often impressed public officials with their majestic architecture and extensive grounds. However, behind closed doors, they were places of fear – dehumanising, prison-like institutions, where restraint and physical punishment were commonplace. They became yet another tool by which husbands and fathers could control their "unruly" wives and daughters.
But for one woman, investigative journalist, Elizabeth Jane Cochran – better known as Nellie Bly, the locks, bolts and seemingly impenetrable walls were no barrier to the truth.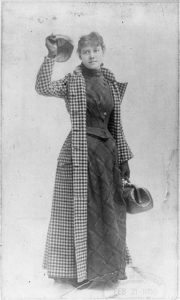 Who was Nellie Bly?
Nellie Bly was born in 1864 in Cochran's Mills, Pennsylvania, where her father was a mill owner and county judge. After her father died, her mother married a new husband, John Jackson Ford. Ford was violent and abusive, and in 1878, Nellie's mother was forced to go through the brutal process of divorce, leaving herself and the family in great financial difficulty.
In 1887, Nellie arrived in New York. After four months of rejection, and almost penniless, she managed to talk her way into the office of Joseph Pulitzer, managing editor of The New York World. Pulitzer hired her, seeing her as fitting into his campaign to "expose all fraud and sham, fight all public evil and abuses," part of the reformist trend in newspapers of that time.
Ten Days in a Madhouse
For her first story, Nellie was to go undercover as a patient in the notorious Blackwell's Island Insane Asylum and report first-hand on conditions there.
She first went to a temporary home for females at 84, Second Avenue, where she rented a room, and adopted a vague, anxious air, telling the owner that she was afraid of all the women there – they all looked crazy to her. She stayed awake all night, refusing to sleep in case one of the other residents should murder her. Nellie found it surprisingly easy to convince the women at the home that she was insane. No violence was committed: she only wanted to give the appearance of being scared and alone. The police were called, and from there, she was taken to court, sent to the insane ward at Bellevue Hospital, and finally boarded a ferry, full of unwashed, bewildered women, bound for Blackwell's Island.
Nothing could have prepared her for conditions there: freezing cold beds with pillows stuffed with straw, women locked away ten to a room, with no means of escape should a fire break out. The most vulnerable patients were tied together with rope and belts, screaming for the keepers to let them go. She endured meagre food rations and degrading washing regimes.
"Rub, rub, rub, went the old woman… My teeth chattered and my limbs were goose-fleshed and blue with cold. Suddenly I got, one after the other, three buckets of water over my head–ice-cold water, too–into my eyes, my ears, my nose and my mouth. I think I experienced some of the sensations of a drowning person as they dragged me, gasping, shivering and quaking, from the tub." (Nellie Bly, Ten Days in a Madhouse)
She noted the stench, keepers tormenting and laughing at elderly and infirm patients, being forced to sit on straight-backed benches for fourteen hours at a time, and not being allowed to talk or move, young women being slapped about the face and receiving "knocks to the head." Walking towards the gallows, she said, would be easier than walking into this, "living tomb of horrors." During her time there, Nellie made the acquaintance of around forty-five other women, and spoke to many of them about their stories, so that she might recount them later.
Throughout her stay, she behaved in a sane manner, repeatedly protesting to doctors that she was not mad, and should therefore be released. They refused to listen.
"There are sixteen doctors on this island, and excepting two, I have never seen them pay any attention to the patients. How can a doctor judge a woman's sanity by merely bidding her good morning and refusing to hear her pleas for release? Even the sick ones know it is useless to say anything, for the answer will be that it is their imagination." (Nellie Bly, Ten Days in a Madhouse)
For ten days, she endured the abdominal regime at Blackwell's Asylum, until the lawyer, Peter A. Hendricks, came and secured her release.
On Sunday, Oct. 9th, 1887, The New York World published the first of a series of Nellie Bly's reports, entitled Behind Asylum Bars. The contents shook the nation, and a grand jury was impaneled to investigate the poor treatment taking place on Blackwell's Island. Bly became an overnight sensation. As the series of damning reports continued, the psychiatrists who had erroneously diagnosed Nellie as insane offered profuse apologies, New York City's municipal government increased funding for the care of mentally ill patients, and conditions inside the asylum quickly improved. Within a month, more nourishing meals were provided, translators were hired for the foreign-born who were not necessarily mentally ill but simply could not understand their keepers, and the most abusive nurses and physicians were fired and replaced.
Nellie sailed from one journalistic triumph to the next, embarking on a daring trip around the world, in the footsteps of Phileas Fogg, reporting from the Eastern Front during World War I, and championing the women's suffrage movement. She died of pneumonia in 1922, aged 57. One can only imagine what further triumphs and good deeds this remarkable woman might have achieved had she continued her journalistic career a few years longer.
Delirium – by Emma Rose Millar
1881
Saint Anne's Lunatic Asylum, London.
One woman whose secret has driven her to the brink of insanity; another who claims she can tell fortunes and communicate with the dead. With seemingly no way out – and everything at stake – only one of them has the tenacity to survive.
Lies, murder, obsession… Delirium.
Author Bio
Emma Rose Millar was born in Birmingham – a child of the seventies. She is a single mum and lives with her young son. Emma left school at sixteen and later studied for an Open University degree in Humanities with English Literature. She has had a variety of jobs including chocolatier, laboratory technician and editorial assistant for a magazine, but now works part-time as an interpreter.
Emma writes historical fiction and children's picture books. She won the Legend category of the Chaucer Awards for Historical Fiction, with FIVE GUNS BLAZING in 2014. Her novella THE WOMEN FRIENDS: SELINA, based on the work of Gustav Klimt and co-written with author Miriam Drori was published in 2016 by Crooked Cat Books, and was shortlisted for the Goethe Award for Late Historical Fiction. Her third novel, DELIRIUM, a Victorian ghost story, will be published in 2018, also by Crooked Cat Books. It was shortlisted for the Chanticleer Paranormal Book Awards in 2017.
Emma is an avid fan of live music and live comedy and enjoys skating, yoga, and making pretty things.